THC Expose - April 2010 - Los Angeles, CA
Event Date: Fri-Sun, 23-25 Apr 2010 11:00:00 PST
Location: Los Angeles Convention Center
Website: ../../events
Email: info@weedconnection.com



Weed Connection Presents


April 23rd, 24th & 25th, 2010
Fri. & Sat. 11:00am-9:00pm
Sun. 11:00am-6:00pm


THC EXPOSE welcomes you to the greatest cannabis trade show on Earth! (video from 2009 below)

THC EXPO was a ground breaking event that took courage and guts to pull off in June 2009 at the Los Angeles Convention center. World War Thirteen, Inc presented the first THC EXPO as a way to fight the propaganda war launched in 1937 when Cannabis / Hemp was made illegal here in the United states. The first American arrested for the sale of two cannabis joints was 56 year old Samuel R. Caldwell and he spent four years of his life behind bars. The US Government has continued to arrest hundreds of thousands of Americans each year for marijuana; including Russell Rope, CEO of Weed Connection, the night before THC Expo last year, he went straight from jail to the expo, charges were later dismissed and medz were returned by court order! World War Thirteen, Inc was established to fight this war using public awareness and education to help persuade those who fear change in our society. WWT's approach is to show the world that cannabis related companies are a huge part of our growing economies.

The hemp plant is one of the most amazing plants on Earth, it has over 25,000 different uses in society. In 1938 Popular Mechanics called it the first billion dollar crop with all its potential uses it has but it was denied the chance after the Marijuana Tax Act of 1937 was passed. THC EXPOSE is now here to expose the general public to the fastest growing industry in the world. Medical marijuana is legal in fourteen states and the people can now learn the truth about cannabis and decide for themselves what product best helps ones needs. THC EXPOSE supports medical use and wants to see it made legal for all adults 21 years of age in the United States. THC EXPOSE provides a great atmosphere to come introduce yourself to the community and the opportunities within the growing industry. THC EXPOSE is also hosting an Art Park within the trade show for all those loving the world of Art.







Limited booths still available!
Email info@weedconnection.com for booking!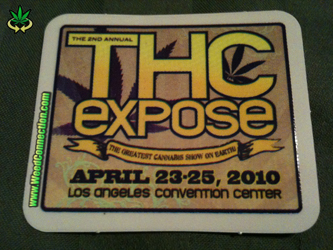 ---
(c) Copyright 2006-2420 - WeedConnection LLC - ALL RIGHTS RESERVED

#Support Your #OG @WeedConnection! (Click Here)
---